Design efficiency, careful search for fine materials, functionality, flexibility, organization and performance will help you with the preparation of our coffee.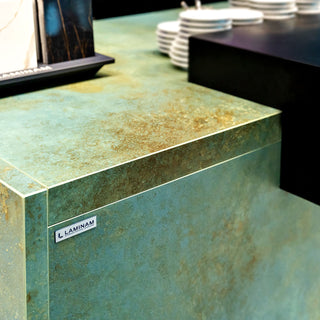 Italian craftmanship
These modules follow highest quality standards with fine finishes.
The customisable modules come from Italian craftsmanship and their finishes from local realities.
Two working stations divided in six modules to help you organize your coffee shop's operation space: front and back counter.
Showcase Module
A refrigerated display case for food.
Neutral Module
A double - leaf module to be used as you please.
Coffee Module
Providing every useful tool for a modern cafè.
Neutral Module
This module is useful for your cafe's organization.
Washing Module
Basket, sink, cup washer.
Fridge Module
This module allows the installation of free standing fridge.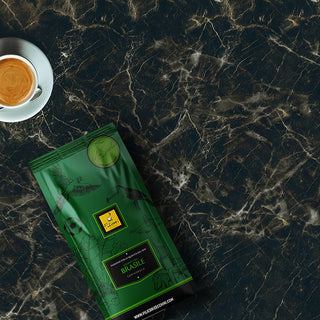 Essential lines, noble finishes, great visibility for the coffee
Preferisci le venature luminose del marmo o l'imponenza e l'astrazione del cemento?
Rock, Carrara marble, Travertino, Wood, Basalt, Obsidian and Steel.
An example is better than many words.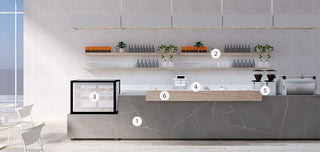 Grid item
Perfect for lookbooks and editorial photography
1. Counter and Backcounter
Thought to optimize every coffee shops' organization. This modules' collection enchants at first sight, surprises while using it and makes every barista's job easier.
2. Shelves
They can become essential for your counter's internal organization. Long - lasting, safe and high - grade, their finishes express elegance and modernity. 
3. Refrigerated Window
To display food products such pastries, croissants, cakes and more.
4. Brewing Station
Offer your customers pour over methods: Chemex or V60.
5. Espresso machine and grinders
The counter area where the Italian tradition of espresso coffee triumphs.
6. Serving area
The raised serving surface (accessory) allows the coffee to be consumed at the counter as the Italian tradition dictates.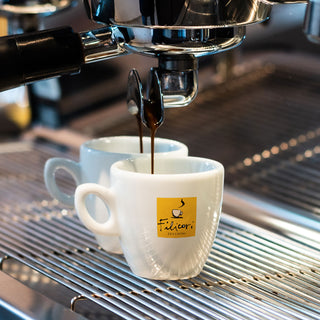 business
Are you involved in the world of foodservice? Do you want to offer the best to your customers for the success of your business?
We have thought of a series of specific proposals to meet your needs: from the selection of products to the best solutions for equipment, in addition to training for you or your staff. Fill out the form with your business data and you will be contacted within a very short time by our sales consultants (obviously without any commitment for you).